In this discussion, I am going to focus on the fact that the mainstream media doesn't really want to talk about the plummeting birth and fertility rate in the United States. It is being discussed on some news outlets and blogs, but has largely been overlooked. I am going to present some facts and speculations as to what the reality of the situation is.

Let's first look at some statistics. I am sourcing multiple outlets for this information including Time magazine and Pew Research Center. The U.S. birth rate slid by 8% in recent years, reaching 63.2 births per 1,000 women of childbearing age in 2011, according to a report from the Pew Research Center. That is half the peak birth rate recorded in 1957, which was smack in the middle of the baby boom. This is the lowest rate since at least 1920, the earliest year for which there are reliable numbers. The biggest declines were among foreign-born women, where the fertility rate plummeted by 14%. Mexican immigrant women showed the steepest drop: 23%.

These declines are troublesome on a number of fronts. First, a declining birth rate poses all sorts of problems for what's left of our social safety net. If we can even go so far to say that the safety net of social security will even exist in the future. In 20 years, every last one of 78 million boomers will have reached full retirement age just as today's historically low number of newborns is entering the workforce. Without big changes social security, which is a pay-as-you-go system, will be overwhelmed.

Second, for many years it was widely assumed that falling birth rates among American women would be largely offset by births to the immigrant population. Yet the steepest declines have been precisely among these immigrant populations. I find this fact to be specifically troubling because "minority" women, specifically Hispanic, make up the majority of that number. Are they being targeted by a racially motivated agenda for sterilization? GMO's anyone? Increasing inability to take care of their children due to economic distress?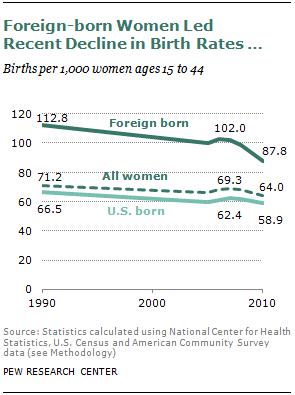 Let's look at the economic, causes and effects, on the low fertility and birth rates among women. Declining births are yet another way the Great Recession is leaving a lasting mark. In an earlier report, Pew linked falling fertility rates to economic distress. This trend is also evident in previous recessions, and was perhaps most pronounced during the Great Depression.

From the Pew report:
"Experts suggest that much of the fertility decline that occurs during an economic decline is postponement of childbearing and does not represent a decision to have fewer children. In other words, people put off having children during the economic downturn and then catch up on fertility once economic conditions improve."

Mark Mather, a demographer for Population Reference Bureau, told ABC News that aside from women actively choosing not to have children, the recession also affects a woman's physical ability to give birth. Very interesting!!

"The economy is definitely having some effect on fertility and we know that from previous decades during the Great Depression we saw a pretty significant drop in fertility and then again in the 1970′s," he said. "We weren't too surprised to see a decline in fertility during this most recent economic downturn."

The low US birth rate has not yet reached European levels, but the nation may soon face some of the same problems. Demographers worry that if the young population plummets, it will become difficult to take care of the elderly that can no longer be a part of the workforce. This would consequentially affect the tax rates, which would likely skyrocket if the elderly population outweighs the young.

As for the social security factor, I will provide some perspective. I personally never once thought of social security before I had any of my children. Many people find it hard to see why anyone would have children for the sake of old age security. Most would think that they have kids just because they want to. Still, we often hear people say that they would have more children if they could afford it. But then why do people in less developed countries seem to afford to have large families even though their income can barely support it.

What can account for this?? Apparently the fact that in the absence of social security, the extended family is an informal social insurance mechanism that makes childbearing economically beneficial. So in effect, the more kids, the more odds that everyone will financially support each other. We see this happen in more communal based countries, and especially with immigrants that come here and support their entire families. If one is living in a house, there will be ten more with them, all pitching in. On the flipside, countries that have large social security systems, people no longer have an old age security motive for fertility, because social security has made fertility economically unwise. Hmmmm… see the paradigm here??

We can't just look to social security though; the welfare state undermines the family in many other ways as well. What about the public school system? It seeks to replace family loyalty with allegiance to the state. Bottom line is, economic incentives shape behavior, and behavior shapes culture… The elite are very well aware of this.

Last but certainly not least, we also have to look at the religious vs. secular effect on fertility because it makes a difference here. I'm going to call this Death by Secularism. For example, in the former Soviet empire, where atheism reigned as state policy for generations, the United Nations forecasted extreme declines in population by 2050, ranging from 22% for the Russian Federation to nearly 50% for the Ukraine. Secular Western Europe will lose 4% to 12% of its population, while the population of the churchgoing United States continues to grow. Is secularism at fault? It may look like it. Wouldn't that also conveniently fit in with the popular NWO agenda to destroy atheists as well as people of faith. All to establish a one world religion that does not have anything to do with the God that I know of.

Wouldn't you say it's true that humankind cannot bear with the terror of mortality without the promise of immortality?? In the absence of religion human society sinks into depressive torpor. Secular society therefore is an oxymoron, for the death of religion leads quickly enough to the death of society itself. I will argue anyone to the bones on this fact, whether I agree with their version of religion or not.

Secularism promotes a more short term and hedonistic attitude towards life. Since secular people have little faith in God or an afterlife, the tendency is for them to adopt the attitude of "Eat, drink and be merry, for tomorrow we die". We know it as popularly as "YOLO", and the more learned of truth seekers know it as Aleister Crowley's quote, "Do What Thou Wilt". Of course, not all secular people are like that. But in general, secularism promotes such attitudes. Their time horizon is their own lifetime, not the lifetime of their legacies or afterlife. Religious people on the other hand are more long term. Their eyes are on eternity.

In general, most secularists want to enjoy their lives to the fullest. For some, this could mean early retirement with loss of still productive workers to the economy. For others, it could mean fewer or no children. For children means responsibility and a tax on their resources which could be used to indulge themselves. Statistics from America have also shown that regular church goers tend to have more children than those that seldom attend church.

So now that I've given some of the factors to the declining fertility and birth rate with economic and religious factors being the largest, let me connect the dots with my opinions.
For one, the elite have been giving us a constant and motivated fear of an ever-looming economic collapse. We have seen this since the crisis of 2008. Now we see it as fiscal cliffs and debt-ceiling debates. This has an obvious effect on the psyche of a woman and can lead to infertility as shown in the Great Depression days. Is any of this financial doom and gloom real though?? Is social security really going to disappear?? That is another discussion, but for now we rely on the fact that most American women, especially immigrant women, are not researching those facts for the sake of becoming pregnant. Right now the sheople will swallow what they are told by Washington and the media. Unfortunately, I am in full agreement that this is a contributing factor for low birth and infertility rates.

Secondly, the NWO agenda of a one-world religion is being carried out with fervor at an alarming rate. The God of the bible is becoming a taboo subject, and atheism is on the rise with the lies that are being perpetuated in the scientific community. I fully believe and agree with the speculation that loss of religion equals loss of babies, specifically true biblical Christianity, which is being targeted more than any other belief system. When I put out that poll on IG a few weeks ago about this subject, my religious followers were more agreeable and hopeful to having children as opposed to my atheist and "New Age" followers. This is very real, and it is being used successfully to psychologically curb our want to bring children into this world.

Finally, I will offer my controversial opinion to the effects of the "truth movement" on the present and future decline of children being born. One of the paradigms that exist within the community is that as these "truthers" become more aware of the powers that be through various methods of propaganda, YouTube videos, social media, and books, they are inadvertently being deterred from having children out of fear. If this is what the movement is ultimately producing, than I want no parts of that "truth". That is a lie and deception in the truest form of it. I personally, do not align myself with this truth movement because I feel it is just an "agent provocateur" in the good fight. I am seeing a lot of negativity, fanaticism, paranoia, and lies coming out of it. That for me is a red flag of the NWO agenda to make a society more adept to adopting a one world religion. Demonize our beliefs and dividing us all, and then introduce a wolf in sheep's clothing too offer us hope and a solution to all the world's problems. Heard this story before anyone?? Do not be deceived, and do not succumb to mob mentality. Be a true black sheep, research everything yourself, and use discernment to make your decisions. Not because I gave you the thoughts. I only want to get you thinking for yourself. Live long, be fruitful, and prosper my friends. Children are the future and a legacy that we leave behind. Without them, we have no existence or purpose to overcome the agendas of the enemy that seeks to destroy us.

My hopes are that, by writing this article, I have brought up some really good perspectives and spin-off topics that I will definitely look to tackle in the future. I appreciate feedback on this post on any contributing angles you could bring to the table.